Well the quest continues, except I have lost a bit of steam with the ticking and am in danger of developing a new obsession. The venue of hatred has ensnared me, forcing me to accept some things. Crimping hard on edges and shuffling sideways is hard, hard is good so the Pill Box is good.
Once I found my stepladder and got over myself I am starting to get into it. It has also reminded me of one thing, I love climbing things that I cant! For a little while I think I got carried off into a distant confusion of trying to climb harder grades, now I realise a 7b you really struggle with is better than an 8a you find easy. Well in every way except for talking shit, but maybe I can get over that too. I forced Jack to come with me at the weekend and CJD was keen too, so we went down and continued to attack the up lines, we did Pill thrill awesome jump to the pinch (if you avoid the 'orrible mono) Jack Daniels, and I got the Original Party link. Unfortunately this seems to be a little blinkered climbing it from the right, but fuck them I am still doing it my way. (See you can tell I am getting into it starting to develop opinions on how other people should do sequences!)
Last Rites, (next session)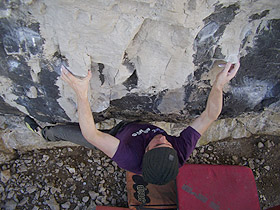 Doylo on Last Rites
Si Panton
Mr Whippy (any time soon)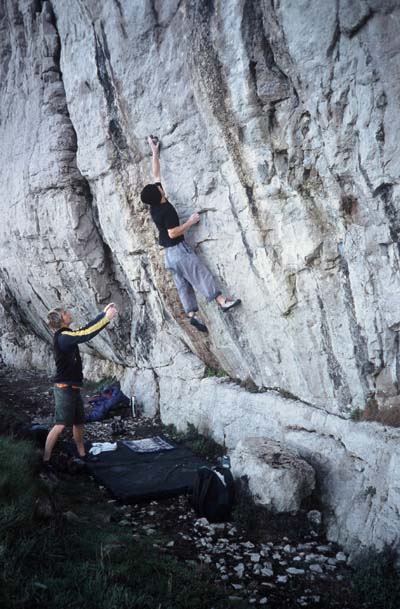 Old favourite, Mark on Mr Whippy
Si Panton
Gaskins Problem (hmmm, Would happily settle for hanging the positions).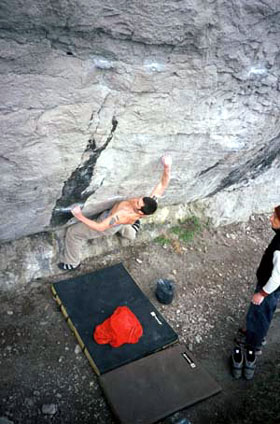 CJD on Gaskins Wall
Si Panton
Then its either traversing or sit downs, unsure which yet probably back to the cave. But I do need to do Millennium Drive for my ticking. New computer is on the way so soon I will have Pill box the Movie. Oh I bet you can't wait!